Book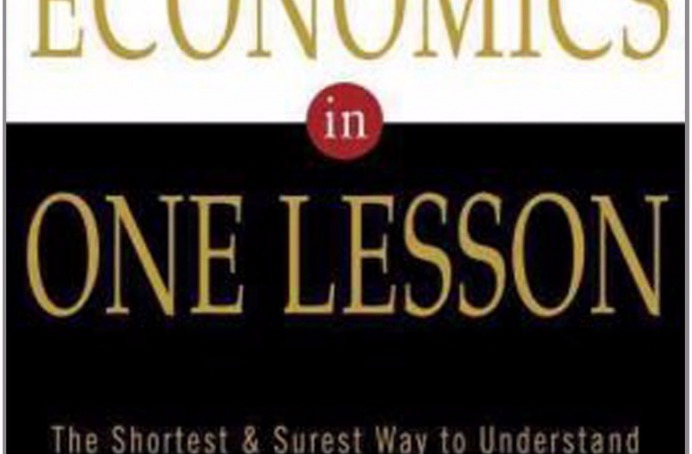 Economics In One Lesson
A million copy seller, Henry Hazlitt's classic primer is an essential guide to the basics of economic theory. A fundamental influence on modern libertarianism, Hazlitt defends capitalism and the free market from economic myths that persist to this day.
Considered among the leading economic thinkers of the "Austrian School," which includes Carl Menger, Ludwig von Mises, Friedrich (F.A.) Hayek, and others, Henry Hazlitt (1894-1993), was a libertarian philosopher, an economist, and a journalist. He was the founding vice-president of the Foundation for Economic Education and an early editor of
The Freeman
magazine, an influential libertarian publication. Hazlitt wrote
Economics in One Lesson
, his seminal work, in 1946. Concise and instructive, it is also deceptively prescient and far-reaching in its efforts to dissemble economic fallacies that are so prevalent they have almost become a new orthodoxy.
Many current economic commentators across the political spectrum have credited Hazlitt with foreseeing the collapse of the global economy which occurred more than 50 years after the initial publication of
Economics in One Lesson
. Hazlitt's focus on non-governmental solutions, strong — and strongly reasoned — anti-deficit position, and general emphasis on free markets, economic liberty of individuals, and the dangers of government intervention make
Economics in One Lesson
, every bit as relevant and valuable today as it has been since publication.
about

Liberty Portal

Liberty Portal is a gateway for free markets and free thinking. We aggregate open-sourced content to promote and popularize important lessons from economics, philosophy, history and more.
suggested
Jordan B. Peterson
12 Rules for Life: An Antidote to Chaos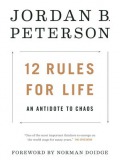 What does everyone in the modern world need to know? Renowned psychologist Jordan B. Peterson's answer to this most difficult of questions uniquely combines the hard-won truths of ancient tradition with the stunning revelations of cutting-edge scientific research.
Humorous, surprising and informative, Dr. Peterson tells us why skateboarding boys and girls must be left alone, what terrible fate awaits those who criticize too easily, and why you should always pet a cat when you meet one on the street.
What does the nervous system of the lowly lobster have to tell us about standing up straight (with our shoulders back) and about success in life? Why did ancient Egyptians worship the capacity to pay careful attention as the highest of gods? What dreadful paths do people tread when they become resentful, arrogant and vengeful? Dr. Peterson journeys broadly, discussing discipline, freedom, adventure and responsibility, distilling the world's wisdom into 12 practical and profound rules for life.
12 Rules for Life
shatters the modern commonplaces of science, faith and human nature, while transforming and ennobling the mind and spirit of its readers.
Read more


FA Hayek
The Fatal Conceit: The Errors Of Socialism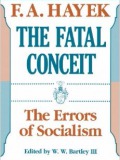 Hayek gives the main arguments for the free-market case and presents his manifesto on the "errors of socialism." Hayek argues that socialism has, from its origins, been mistaken on factual, and even on logical, grounds and that its repeated failures in the many different practical applications of socialist ideas that this century has witnessed were the direct outcome of these errors. He labels as the "fatal conceit" the idea that "man is able to shape the world around him according to his wishes."
"The achievement of
The Fatal Conceit
is that it freshly shows why socialism must be refuted rather than merely dismissed—then refutes it again."—David R. Henderson,
Fortune
.
"Fascinating. . . . The energy and precision with which Mr. Hayek sweeps away his opposition is impressive."—Edward H. Crane,
Wall Street Journal
F. A. Hayek is considered a pioneer in monetary theory, the preeminent proponent of the libertarian philosophy, and the ideological mentor of the Reagan and Thatcher "revolutions."
Read more


Hans Herman Hoppe
The Economics and Ethics of Private Property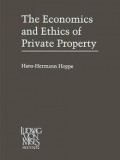 "Do not steal" is an excellent principle of ethics; it is also the first principle of sound economic systems. In our time, no one has done more than Hans-Hermann Hoppe to elaborate on the sociological implications of this truth. And this is his great work on the topic.
Read more


support
If you like what we do and want to support us, then you are a fine humanitarian. Click the link below to find out more.
Support the liberty movement